We enjoyed another calm passage from Beaufort SC down to the St Mary's GA inlet. We've learned to appreciate the patience in waiting for a calm weather window. It makes for a relaxing passage offshore!
Then we spent a day walking around Fernandina and eating our usual burger at T Rays. Definitely worth the stop and the walk!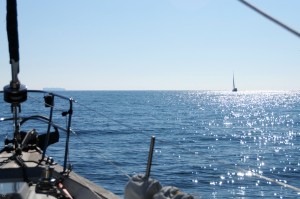 Calm passage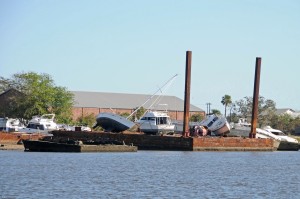 Hurricane clean up in Fernandina
Fernandina and the rest of the east coast of Florida was pretty hard hit by the hurricanes this season. We are just beginning to see how bad it was. Talking to folks in town tells a pretty scary story. Lots of boats lost, docks destroyed and buildings flooded.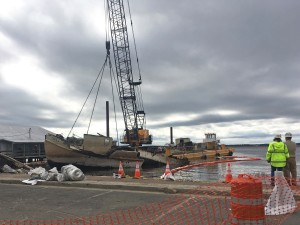 Hurricane clean up in St Mary's….picking up a retired Cumberland Is ferry that sunk at the dock
We moved up the river and anchored at St Mary's in preparation for the cruisers Thanksgiving potluck where the town provides ham and turkey and the boats bring all the side dishes and desserts. It turns out the storm surge hit right at high tide, increasing the destruction quite a bit. All the docks in town were destroyed. All but one of the boats at the docks or at anchor were sunk, including a retired Cumberland Island ferry. Most of the private boats have been pulled from the bottom and trucked off for disposal. As we arrived, a barge and crane crew were just completing the removal of the sunken ferry. The docks are all still a pile of rubble and no work is proceeding yet.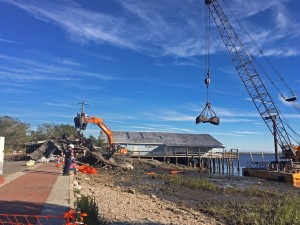 Docks were torn up as well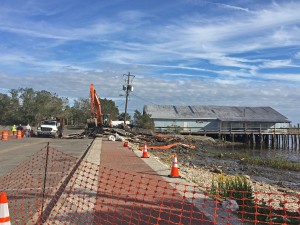 But the town somehow managed to get a dinghy dock opened up for us to use making the Thanksgiving potluck possible! We suspect the numbers will be down this year, but we are still looking forward to sharing a season of Thanksgiving with other boaters and the locals who host us.
He quieted the sea with His power.