We left the Bahamas with a fun dolphin escort and we flew north to St Augustine riding the fastest part of the Gulf Stream hitting 11 1/2 to 12 1/2 kts! We usually sail at 6 1/2 to 7 kts and the Gulf Stream flows north at 4 to 4 1/2 kts at the center.  That's the fastest ride we've ever had in our boat!!
We caught two barracuda while still on the Bahama banks. Barracuda aren't good to eat and they tend to bite through the lines, so we reeled in the lines to wait for deep water the next day.
The next day we caught two black fin tuna!! They were SO delicious!
We picked up a hitchhiker when we were 20 miles off shore. This little bird was soaking wet when it first came into our cockpit. He flitted around the boat from the bow to the stern for half the day before he finally took off for land.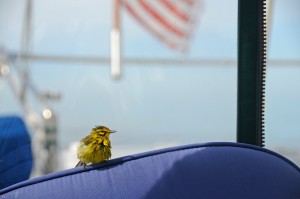 We watched a shark fin moving toward our boat when we were off shore too. Just as it passed our boat it jumped and we could see that it was a hammerhead shark! Wow! That was cool to see!!
When we anchored at Wrightsville Beach NC there were lots of people and stand up paddle (SUP) boards in town. We found out that it was the weekend of the annual Carolina Cup, the big annual SUP race. Then we remembered that we were in Wrightsville Beach last year on the exact same weekend! We enjoyed watching hundreds of SUPs go past our boat.
After we left Wrightsville Beach, we sailed to Cape Lookout Bight just outside the Morehead City inlet along the shore of NC. It is so beautiful! You can only get there by boat so not much of a crowd. We spent our time there watching huge turtles, walking the beach, watching sea birds, touring the grounds of the Cape Lookout lighthouse and riding in the dinghy along the shore to look at the wild ponies. BUT, the most amazing experience was having a humpback whale surface right next to our boat. It was as big as our boat! We never had the camera out so no pictures but we saw it surface multiple times a day for several days! Everybody in the anchorage was excited about seeing it.
He quieted the sea with his power